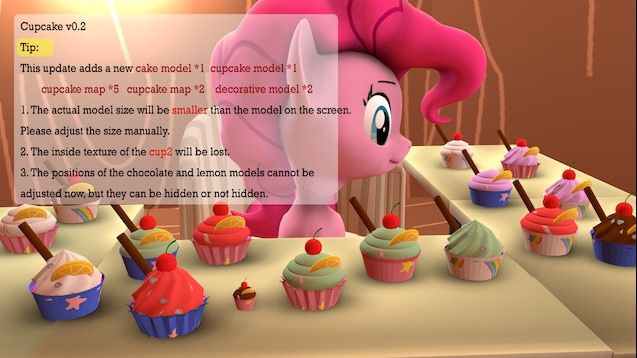 Description
Cupcake v0.3

This update include :
2 fruit (pear and apple)
1 white plate
repair the now it has better UV map.
repair the scale.
---
it also can be used in any situation, not limited to MLP. thanks for remind of wxinnor!!!
---
Sorry to those who have followed my model and left a message, I want to update the preview and have to delete this work, I hope you will like the new update!
---
CupCake v0.2
Tip:

This update adds a new cake model 1 cupcake model1 cupcake map 5 cupcake map2 decorative model *2
The actual model size will be smaller than the model on the screen.Please adjust the size manually.
The inner texture of the paper cup2 will be lost.(fixed in 2019.2.5)
The positions of the chocolate and lemon models cannot be adjusted for the time being, but they can be hidden or not hidden.
The model is divided into:
paper cups
cake
additions (fruit, chocolate, lemon slices) Texture *15 contains: use the same cake texture and different cup models for every three
Finally, have fun~~~
---
Cupcake v0.1
This is the first model I made. It took me three hours to conceive, model and map. At present, there is only one set of cake model and map.I will improve it in the later stage. If you have any Suggestions, please feel free to comment. I hope you will like it and recommend it to friends who like ponies.
The model is divided into three parts:
There will be several different sets of textures for each model, Please wait for my next update. Thank u!!!!!
Includes:
nua\props\cupcake.mdl
Includes:
nua\props\cupcake.mdl